Estimated Reading time: 2 minutes
|
Last modified: 2021-12-31, 11:27:28 am
Keepalived Group
Keepalived Group based on VRRP Protocol of Keepalived, offer a High-Available solution on the IP layer by combining multiple Edge Node within the same Gateway Cluster as a group.
Inside the OpenResty Edge gateway cluster, if you want to make a primary standby at the IP layer, you can consider using the keepalived group feature with the cluster.
Each node has an initial priority and the master node is elected by the VRRP election protocol to use the virtual IP of the keepalived group for public service. At this time, the other nodes in the keepalived group are temporarily not providing public service as backup nodes.
When the master node fails, VRRP elects a new master to use the virtual IP of the keepalived group.
When the old master node is recovered, it will be automatically elected as the master again.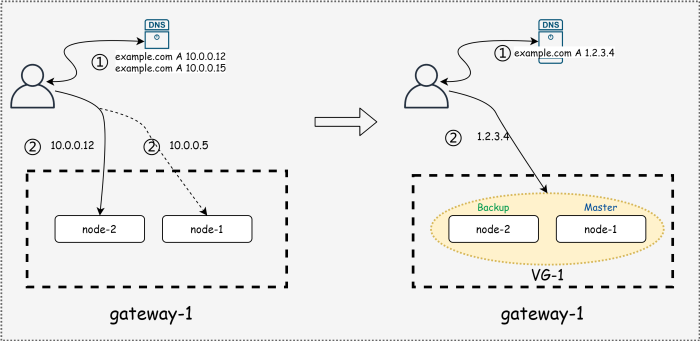 Create Keepalived Group
Before creating a Keepalived Group, make sure that Gateway Cluster exists and there are at least two nodes in it .
Click to enter the Gateway Cluster page which lists all gateway clusters have existed: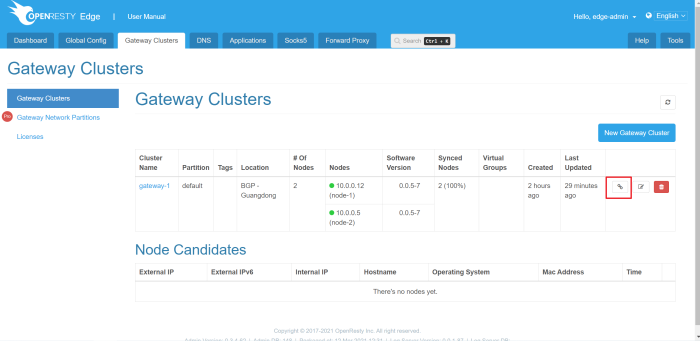 Select the Gateway Cluster named gateway-1, click the corresponding Keepalived group button, and the next page list all Keepalived Groups of the selected Gateway Cluster:

Create a new Keepalived Group named VG-1: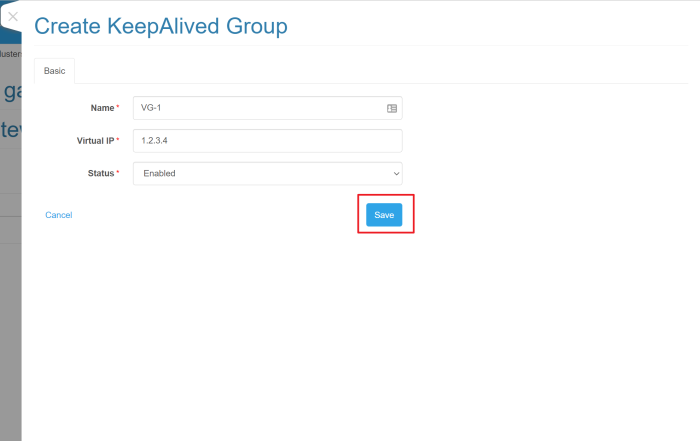 Add Node for VG-1 named VI-1 and VI-2, and make sure the Keepalived managed option is enable.


Back on the Gateway Cluster page, now we can see the Virtual IP we just created, and the node list with keepalived tag.

From now on, these two nodes are no longer served directly to the public, but through Virtual IP to the public.